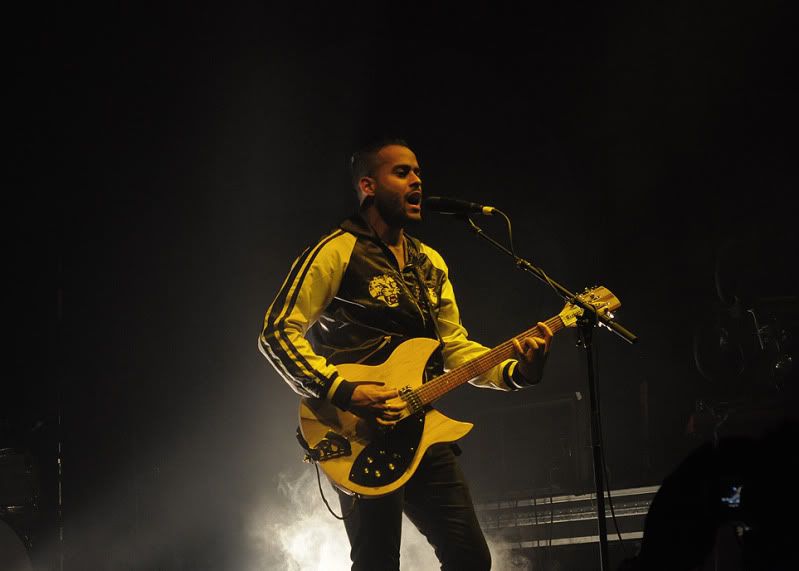 "I'm not in love!", impassioned listeners roared the main chorus as synths and guitar riffs struck the main ballroom of Webster hall. It was a Thursday night that held the chemistry of an intoxicating Saturday evening; I was sardined between trendy bodies that swayed to the crooning vocals of George Lewis. Born in the tropical island of Dominican Republic and grown in the heat of Florida, Lewis brings warmth into his live performance through quavering vocals. Similar to that of a ripened pomegranate that stings the tongue with sour but sweet intentions; his songs left me with unfulfilled pleasure. While his vocals where on par with his recorded tracks there were one or two moments when his pitch quavered off track, this slight anomaly was a blip on the radar of frequencies that were lovely throughout.
The audience was primed for Twin shadow's performance by the first act, the Swedish duo, Niki and the dove, who opened the doors with a seductive and powerful performance. Malin Dahlström's vocals stayed at a steady light and sweet while Gustaf Karlöf injected the sound system with dark tremors that always began in a slow progression, one that steeps the listener in a hypnotic mantra while the escalation goes unnoticed. Listeners underwent a transformation, one that was observable.  Heads would nod but the room would be stuck with inertia until the music finally broke through the restraints of the body and caused a whole range of movement throughout the audience, it was climactic.
Unfortunately, many fans had to resort to ear plugs or use bits of paper to protect their ears from a bass that boomed too fervently. This was not the fault of the artist nevertheless, but was the incompetence of the venue that created this discomfort. Webster hall did not deliver its usual but the performances made up for the inadequacies and gave the new faces a proper introduction to New York City's eclectic music scene.